Chandeliers
Chandeliers
What are chandeliers?
Do you want to change something at home, but haven't got the time or inclination to do any redecorating? We have a great idea for you! By hanging a chandelier you can easily and efficiently create a completely new feel and atmosphere in any room. A chandelier is a type of decorative lamp hanging from the ceiling. It usually has several branches and light bulbs and in most cases is decorated with ornaments to scatter the light and create a cosy atmosphere. Whatever your tastes and preferences, you are sure to find the right product for your room. These lighting units bring sophistication, class and impressive design into the interior of your home. Whether in the living room, dining room, corridor or even the bathroom, a chandelier will give impressive results. See below for further information about the history, main characteristics and advantages of chandeliers and about the various chandelier ranges in the ELMARK catalogue.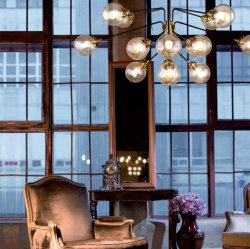 Chandeliers - 1
How did chandeliers come about?
Chandeliers in the past were a symbol of wealth and opportunity; today they are more of a design solution for any room. Just a few years ago, this type of lighting only worked with incandescent bulbs, but now you can find variants with a variety of light sources.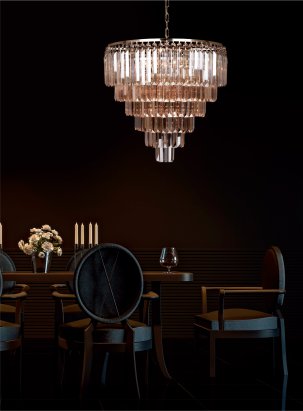 Chandeliers - 2
The idea of a chandelier originated in the Middle Ages. Obviously there was no electricity at the time and the first chandeliers were used for candles. They were usually in the form of a wooden cross with a number of spikes where the candles were placed. They were raised to the appropriate height by a rope or chain on a hook. This ensured that the whole space was lit.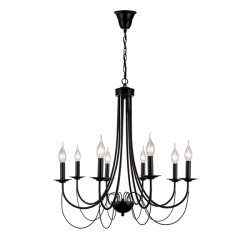 Chandeliers - 3
Even today chandeliers are kept in many museums and stately homes. Many have a unique classic design. With the impressive workmanship that went into them and their imposing size, it is clear why they were seen as a symbol of prestige.
Why exactly a chandelier?
Chandeliers are the easiest and most beautiful way to light a room. They provide plenty of light throughout the room while saving a lot of space. Hanging a chandelier can change the feel and intended use of the space. This type of lighting can turn it into a special area for resting, eating or watching TV. With the enormous variety of chandeliers available on the market, you can choose the most suitable lighting unit for the interior of any room in your home.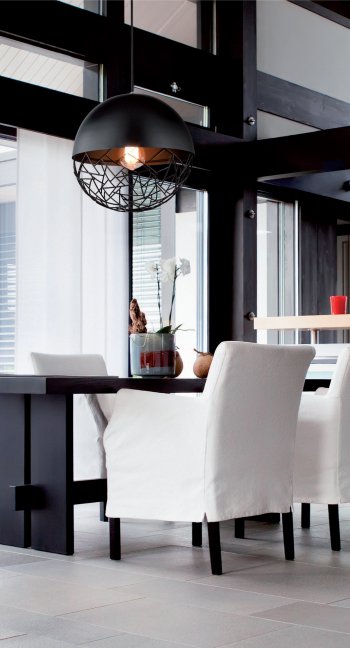 Chandeliers - 4
Choosing a chandelier is important not only for the appearance of the room, but also for how you will feel in it. Remember that apart from being an attractive feature in your home, it generates special emotions and sensations. With contemporary chandeliers you can choose the type of light bulbs to use in the lighting unit: vintage incandescent bulbs, vintage LED lamps, LED lamps, energy-saving lamps, etc. ELMARK's suggestions can meet the needs and requirements of every user. From traditional chandeliers to those with modern and refined designs, the choice is entirely yours.
Which type of chandeliers to choose
The ELMARK product range contains different types of chandeliers, each meeting precise illumination, energy efficiency and appearance requirements. Let us introduce you to these types of chandeliers and their features and characteristics.
1. Crystal chandelier: crystal is a material often associated with chandeliers. Light bulbs are woven into crystal ornaments, diffracting the light through the glass and making different patterns in the room. Crystal chandeliers are always a special feature in every room and should be matched with the rest of the furniture. If you like this type of lighting, we offer a wide selection of classic crystal chandeliers from the AURIA, BLESSY, DALISS, KARY, MIA, LIZA ranges and many more.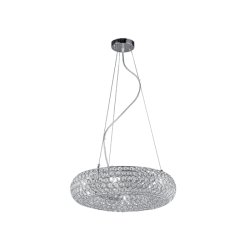 Chandeliers - 5

2. Candlestick type chandeliers and lighting fixtures similar to antique candlesticks with a number of candle holders. Contemporary models allow the use of different types of light bulbs: candle type, flame type and vintage lamps. If you are looking for a candlestick-type chandelier for your home, we can recommend the MADLEN, ASHLEY, RUBY, LAURA, AMANDA, ANGELA and other ranges.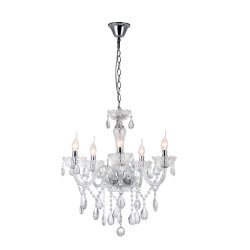 Chandeliers - 6

3. Classic chandeliers are often large with many components. You can distinguish them by their design, consisting of at least two sections that may be in different shapes. The most classic version has a conical shape at the base, broadening downward and taking the form of a bowl. ELMARK's extensive range of classic chandeliers includes DINA, LEYLA and others.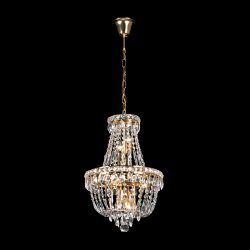 Chandeliers - 7

4. Vintage chandeliers differ from all the others in their unique design that takes us back in time. The lighting is simple, beautiful and lends elegance and class. You will get an effect of this kind if you chose JACKSON, GRACE, CARTER, BLAKE or other chandeliers in the Elmark Vintage collection.
Chandeliers - 8

5. Chandeliers with built-in diodes: the ELMARK catalogue also has chandeliers with built-in diodes that give you all the advantages of LED lighting. They give good colour and brightness and have a stylish and impressive design. If you are looking for chandeliers with built-in diodes, the JOSEY, OLIVIA and AZZAR ranges are suitable for you.
Chandeliers - 9

6. Designer chandeliers: these hand-made lighting units are produced in expensive quality materials and are only available in limited numbers on the market. Designer chandeliers have a distinct individuality, character and elegance. The idea is to achieve a special, unique radiance and atmosphere in every room. You can find this effect in the DINNER, BUBBLES, SPIDER, HELIX and other ranges.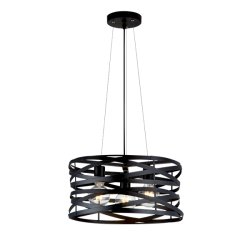 Chandeliers - 10
Whatever design of chandelier you are looking for, ELMARK is the right place for you. We can give you different ideas and advice and ensure that you will buy only high-quality and stylish chandeliers.
How did chandeliers come about? Why exactly a chandelier?