LED Panels
LED Panels
What are LED panels?

LED panels are a type of lighting unit designed to be built in or mounted on a surface. They are a good alternative to fluorescent lighting and built-in spotlights. LED panels are currently used both in households and in industry as both a primary and an additional source of lighting. Their main advantages include low power consumption, good light quality and controllability. See below for further information about these benefits and the main areas where LED panels are used in the modern world.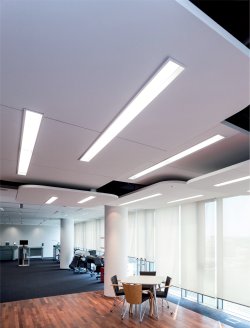 LED panels - 1
Why choose LED panels?
1. Energy Efficiency: one of the major benefits of LED panels is their energy efficiency, resulting in significant savings in power consumption.
Whether you choose LED panels to light your home, office or elsewhere, they will consistently keep your electricity bills down.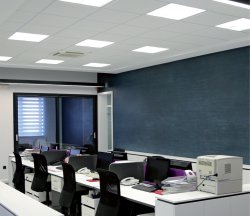 LED panels - 2
2. Good light quality: LED panels provide high-quality light and distribute it evenly over the entire area of the diffuser.
They are used in offices and business buildings because they improve the working atmosphere and do not irritate human senses.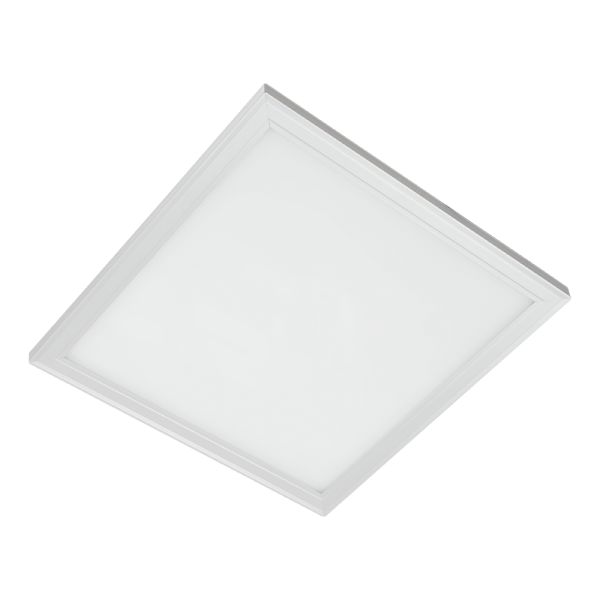 LED panels - 3
3. Wide choice: LED panels are available in a broad and varied range of shapes and sizes,
so that all users can find the right LED panel for their needs and the characteristics of their room.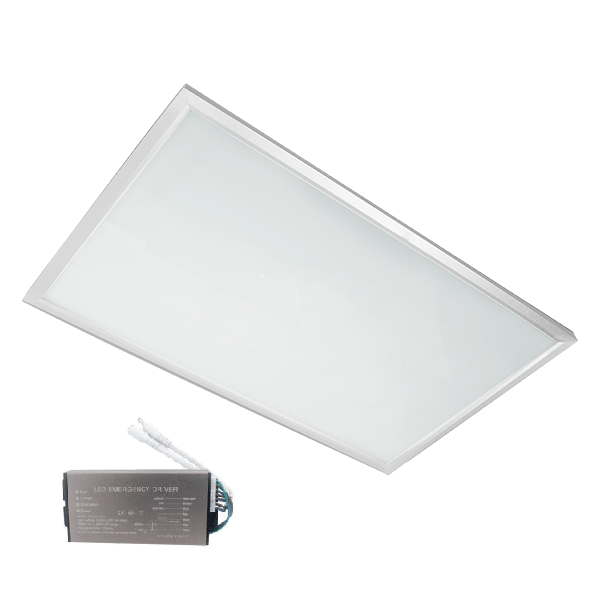 LED panels - 4
4. Light Control Option: another important advantage of LED panels is that they can be integrated into an automatic lighting control system that allows you to switch lights on and off, control their brightness and tailor the light to your preference from absolutely anywhere in the world. The Smart WiFi Four Channel DIN Rail Device in the Smart Home category of the ELMARK catalogue is an example of this kind of automatic lighting control system.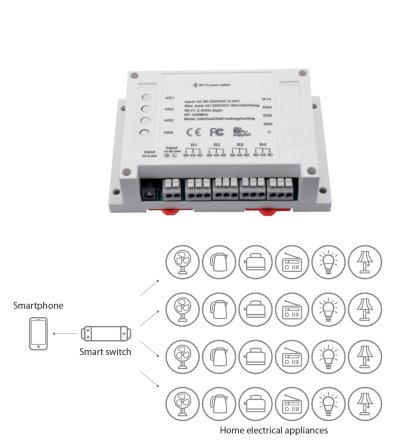 LED panels - 5
LED panels: areas of use
With their many advantages, LED panels are becoming increasingly popular and in demand among modern consumers. Here's where they can best serve you:
- at home: first of all, LED panels are perfect for lighting your home. Their soft and pleasant light will blend perfectly with the interior and the atmosphere of each room while keeping household electricity bills down.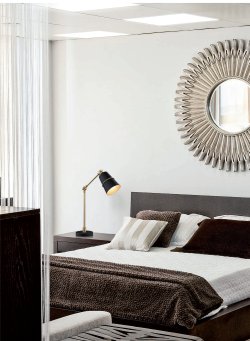 LED panels - 6
- in the office: LED panels are increasingly used in modern offices and business buildings. Products in this category that emit neutral white light (4000 - 4500 K) are suitable for office environments as they do not irritate the senses and help employees to concentrate on their work.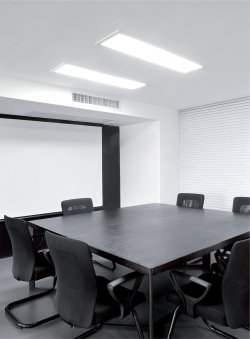 LED panels - 7
- in industry: LED panels are also widely used in various industrial and production sites. Waterproof LED panels suitable for use in rooms with a high moisture content are also available on the market.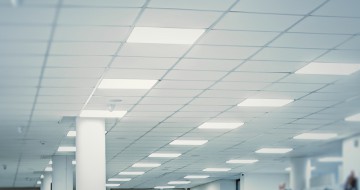 LED panels- 8
- in public buildings: the characteristics and features of LED panels make them the best choice for most public buildings including schools, hospitals, banks, shops, and so on.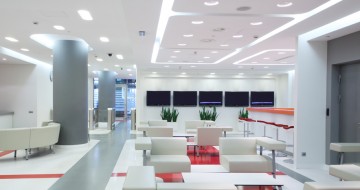 LED panels - 9
How to choose the right LED panel
There is wide range of LED panel types and models on the market, so you can make a choice on the basis of the requirements and conditions in the building or premises and the effect you want to create. Pay attention to the following points:
1. Shape: LED panels are available as square, rectangular and round units. The first two of these are most often placed in suspended ceilings in place of one of the tiles. Round LED panels are used as an alternative to traditional built-in spotlights.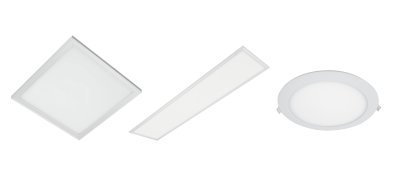 LED panels - 10
- 2. Size is another important consideration when choosing an LED panel. Small LED panels are preferable for a particular room in the house, a corridor or smaller rooms. Large LED panels are mostly used in offices, business and public buildings, schools and shops because of their higher power rating.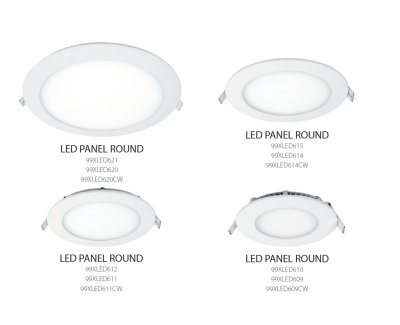 LED panels - 11
3. Colour temperature: your choice of LED panels should be based on the type of light you prefer. LED panels are available in three basic colour temperatures: warm white (2700 - 3000 K), neutral (4000 - 4300 K) and cold light (6000 - 6400 K).

LED panels - 12
4. Emergency block: the ELMARK catalogue also has LED panels with an emergency block that ensures that the light stays on for up to 3 hours after a power failure. They provide enough light for safe evacuation from a room or building when needed.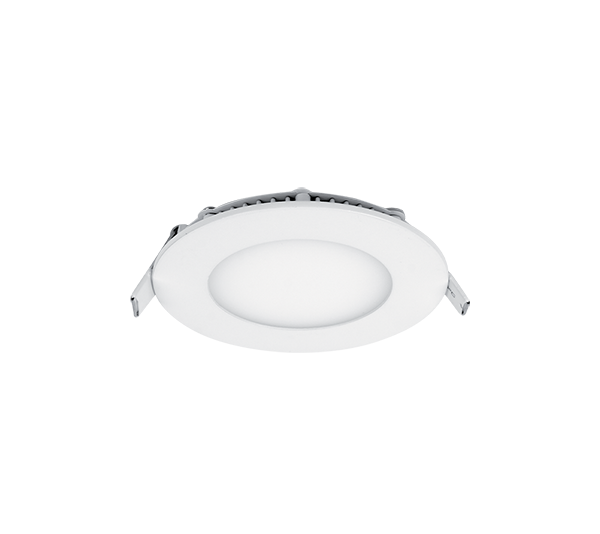 LED panels - 13
5. Dimming: you can also choose LED panels with a dimming option, so that you can smoothly adjust the light intensity to match the occasion, surroundings and atmosphere in the room.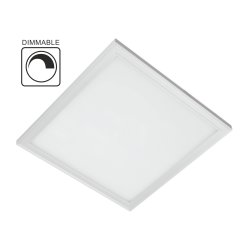 LED panels - 14
6. Waterproof LED panels: another special offer from ELMARK. The waterproof LED panels we offer are IP44 and IP65 protection rated. They can be used in any humid and outdoor environment.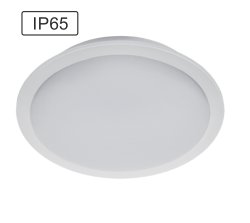 Влагозащитени - 15
The variety of LED panels at ELMARK will fully meet your needs, tastes and preferences. Buying them is more than convenient and the whole process can be done without ever having to leave your home or office. Check out ELMARK's catalogue and choose the right lighting for you!