Plastic distribution boards
Plastic distribution boards
Distribution boards
A distribution board is a basic component of any indoor electrical installation. It manages and distributes the electrical energy in the building, apartment or room and protects the system as a whole and the appliances connected to it. A wide range of distribution boards is available on the market, allowing you as a consumer to choose the right item for your needs. Some are designed for the home (house or apartment), while others are used in production facilities, retail outlets and other large buildings. Distribution boards can also differ in the material they are made of, the size and number of modules, the degree of protection, etc. See below for more information about the different types of distribution boards available in ElmarkStore's online shop.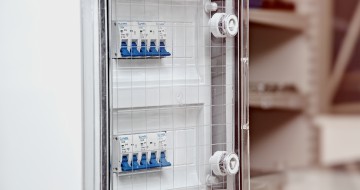 Types of Distribution boards
At ElmarkStore we offer several types of distribution board which you can choose according to their intended location and the number of electrical circuits. Depending on these criteria, there are large apartment-type distribution boards used to distribute electrical energy throughout a building or production workshop, and special industrial boards. Let's look at the characteristics and distinctive features of each of these groups.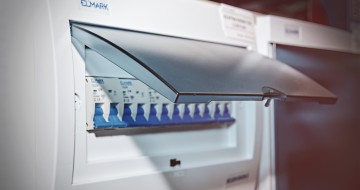 Distribution boards - 2
Apartment-type distribution boards: description and characteristics
Apartment-type distribution boards are designed to supply power to electrical circuits mainly in the home. Circuit breakers are fitted in apartment-type distribution boards along with some other devices used increasingly by modern users. These for example include a timer that switches selected appliances on and off on schedule, the doorbell of the apartment, the electricity meter, etc. Since the use of a third earth conductor became obligatory in new systems, the distribution board must have a residual current device. Depending on the leakage current, it is designed to prevent anyone from making contact with live parts or to protect the installation from fire. There is a wide variety of distribution boards available on the market and they can be chosen to meet any of the client's needs or requirements. See the next paragraph for more information about choosing a particular distribution board.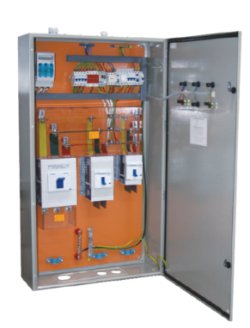 Distribution boards 3 - ELMARK
How to choose an apartment distribution board: individual models available on the market may differ from one another in a number of characteristics, from their size and number of modules to factors such as fitting, protection from dust and moisture, colour and design, etc. Here are the main things you need to know about the criteria for choosing a small distribution board for your house or apartment:
- size and number of modules: this is one of the first criteria to take into account when choosing an apartment-type distribution board. Generally, this type of distribution board is widely available with 4 to 36 modules. The more modules it has, the larger the distribution board. Your choice in this respect depends on the project you have prepared for your personal needs. The size of the distribution board you should select depends on the number of electrical circuits in the house or apartment.
Distribution boards 4 - ELMARK
- ingress protection: apartment type distribution boards are available on the market with differing degrees of protection. In this sense, the apartment type distribution board you select should best suit the conditions in the particular room or space. For a normal environment, the IP40 protection level will do the job. However, for rooms with higher humidity levels or for outdoor installation, we recommend a distribution board with protection level IP65.
Distribution boards 5 - ELMARK
- open or built-in installation: with regard to installation, there are two main types of distribution boards: built-in distribution boards and those designed for open installation. In general, built-in distribution boards are a better option for creating the overall design and interior of the room, as you can only see the cover which comes in various options according to your preference. However, if this type of distribution board cannot be placed in the chosen location, the remaining option is to use an open-fitted panel.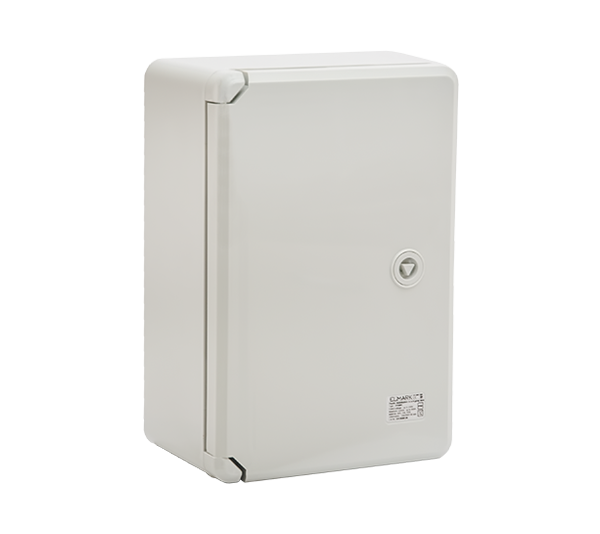 Distribution boards 6 - ELMARK
Distribution boards 7 - ELMARK
Central distribution boards: features and types
We will now look at the second type, i.e. large distribution boards. These are central distribution boards used to allocate electrical energy in large spaces with more powerful consumers or more electrical circuits, such as entire apartment blocks, production workshops, retail outlets, etc. Large distribution boards can be made of metal or plastic. Each of these groups is subdivided into subgroups, as different kinds of metal can be used to make the distribution boards. See below for more information about the different types of distribution boards in terms of the material used to make them and their characteristics and distinctive features.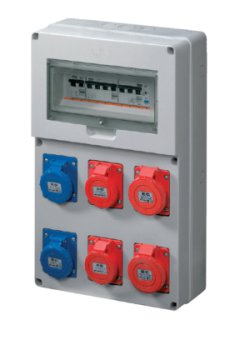 Distribution boards 8 - ELMARK
Metal distribution boards are currently a more common option for obvious reasons. Metals are durable and resistant materials that ensure safety for the appliance and maintain its excellent condition over time. Here are the metals typically used to make large distribution boards: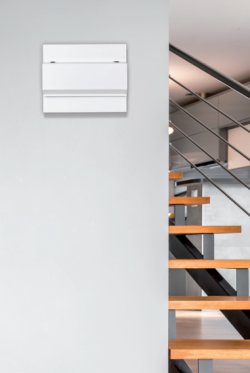 Distribution boards 9 - ELMARK
- Steel is one of the most durable metals. It is not deformed by external factors such as temperature and humidity. On the other hand, the strength of steel protects the distribution board from vandalism and adverse incidents. Steel distribution boards are widely used in residential buildings and in various production facilities and industrial sites.
- Stainless steel distribution boards are used in buildings and premises where more unusual conditions and factors are present. These may be production plants, food industry premises, restaurants and kitchens, chemical production facilities, etc. There are two main reasons to use stainless steel distribution boards in such places. The first is to prevent corrosion and ensure resistance to chemical and other strong substances. In addition, stainless steel distribution boards are easy to clean and disinfect.
Plastic distribution boards: a number of advantages make plastic distribution boards preferable for the buildings or premises of some groups of users. One is their lower price. Another is that plastic boards are lighter and hence much easier to lift and install. ElmarkStore offers two types of plastic distribution boards - with a transparent or a solid door. See the differences between the types of doors below.
- Solid door: in general, solid plastic door panels are a preferable option, covering all the cables and devices fitted inside. They also look good. The distribution panel fits more naturally in the interior of the room.
- transparent doors for distribution boards are less preferable in terms of appearance and design due to the fact that the equipment used in the distribution board can be seen. However, there are cases when this is important, in particular where quick visual inspection of devices in the distribution board is required without opening it. These are preventive inspections that reduce the risk of contact between unskilled personnel or individuals and live parts of the equipment.
Various accessories can be added to large distribution boards, improving their precise installation and organisation along with their appearance and protection from adverse incidents. All such accessories can be found in the ElmarkStore online shop.
Distribution boards for industrial boards
These distribution boards are available with holes designed to fit plugs and sockets. They are most often used and can be seen in car wash premises, car parks, production facilities (for powering machinery), gardens and ports and harbours. Distribution boards for industrial boards, available in the ElmarkStore online shop, are IP65-rated and are resistant to ultraviolet radiation. They are also resistant to impacts, high temperatures, fire and other adverse factors.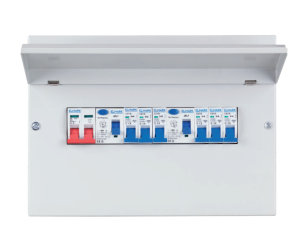 Distribution boards 10 - ELMARK
Distribution boards: useful tips and practices
- signs that you need to change the distribution board: like almost all other appliances and devices, distribution boards also wear out and depreciate after prolonged use and some components need to be changed. But how can you know when the moment has arrived for changing the device? Signs such as a burning smell, hot fuses and strange sounds on your existing distribution board definitely show that it is not working properly and the problem component must be changed
- determining electrical circuits: usually the sockets in a particular room or the overall lighting in a home are connected on a single electrical circuit. More powerful consumers, such as a boiler, a variety of kitchen appliances and storage heaters are an exception and are connected on a separate circuit.
Whether you need a distribution board for your house or apartment, a factory or a production facility, you will find the right item in the ElmarkStore online shop. Check out our suggestions and choose the product that best suits your needs and requirements!
Apartment-type distribution boards: description and characteristics
Central distribution boards: features and types
Distribution boards for industrial boards