LED Floodlights
LED Floodlights
LED floodlights
LED floodlights are universal lighting units with a wide variety of applications in the modern world. Their unique light diffusion properties can both uniformly illuminate large industrial sites and highlight a particular element of a facade, landmark or cultural monument. LED floodlights are available in a rich and varied range of colours that can meet every requirement and taste. Maximum user convenience and comfort, safety at the workplace and an amazing atmosphere at public events are just some of the benefits of LED floodlights that make them so popular. See below for more information about this really special set of lighting products..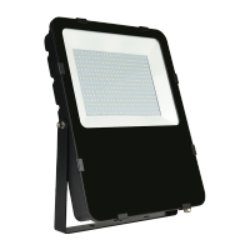 LED floodlights - 1
Where are LED floodlights most often used?
LED floodlights are primarily designed for industrial use to ensure an optimal and safe working environment. But this is not their only application. Increasingly, LED floodlights are used to improve security in the yard or garden around the home and to achieve decorative effects in particular outdoor spaces. Here is a little more information about each of the LED floodlights mentioned here:
- industrial estates and work sites: LED floodlights are among the most suitable sources of lighting for these areas. They can both successfully illuminate large areas and direct light to a precisely defined point where maximum visibility is needed. LED floodlights are often used on building sites, especially if work continues late into the evening.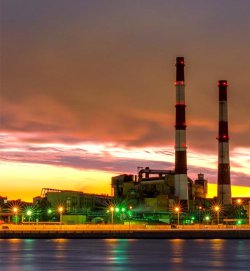 LED floodlights - 2

- outdoors: LED floodlights have a wide range of outdoor uses and can be seen in numerous public spaces and areas, from parks and gardens to facades, monuments, billboards and a variety of attractions. LED floodlights make these places more visible and also contribute to special visual effects and highlighting parts of the overall design.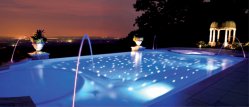 LED floodlights - 3

- around the home: LED floodlights are increasingly used in spaces around modern homes: back yards, gardens, arbours and similar places located around houses or residential buildings. LED floodlights improve security and safety when coming home late at night.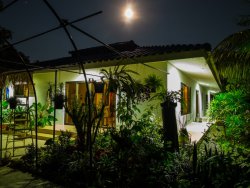 LED floodlights - 4

- stages and décor: the concerts, theatres and cultural and entertainment events we enjoy would not be the same without the crucial role of LED floodlights. Located around the stage, they light up in different colours and create a series of visual effects and an amazing atmosphere for the audience. LED floodlights are also used for the same purposes in restaurants, cafes, discotheques, etc. They are also the main lighting fixtures at stadiums, sports halls and playgrounds.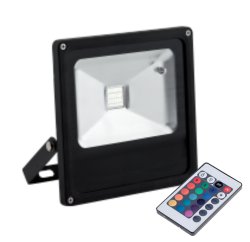 LED floodlights - 5
Which groups of users can benefit from LED floodlights?
LED floodlights are practically universal, as they affect the everyday life of almost every user. Construction workers, people returning home in the dark, nature lovers and campers can all benefit from LED floodlights around them. See below for information on some of the major groups of users who can benefit from LED floodlights.
- night-time workers: in some areas, daytime work has to continue through into the night because the work process cannot be interrupted for long periods. This is the case in some industrial processes with employees involved in long shifts and heavy physical work. It equally applies to building sites where work has to be done in the evening or even at night in order to benefit from appropriate weather conditions. In these cases LED floodlights help workers considerably by providing the best possible visibility and protecting them from accidents and injuries.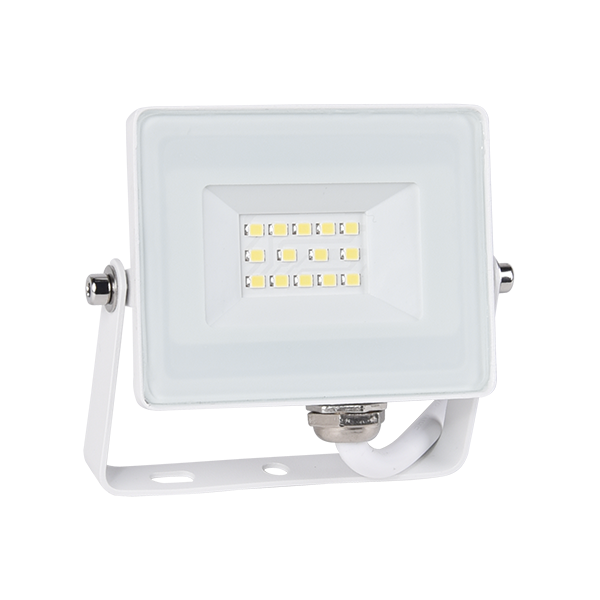 LED floodlights - 6

- going home late at night: going home can be challenging for people who have to work in the evening or at night, particularly if there is no street lighting around the house or block where they live. Why risk stumbling, falling or injury? A much better option is to place an LED floodlight near the entrance of your home with a motion sensor, regularly giving you the light you need. LED floodlights have a long service life and, once installed, will work for at least 4-5 years.

- Nature lovers: portable LED floodlights are the right choice for you if you love being in the wild and take every opportunity to go out for a walk, picnic or fishing. Camping is also very popular nowadays. If you practice your hobbies in the evening or spend nights outdoors in the wild, LED floodlights can help you. The ELMARK catalogue has portable LEDs in yellow and green to provide you with excellent all-round visibility so that you can play games and have fun with your loved ones and friends. Their light intensity can be adjusted to save energy and they can be recharged with a car lighter.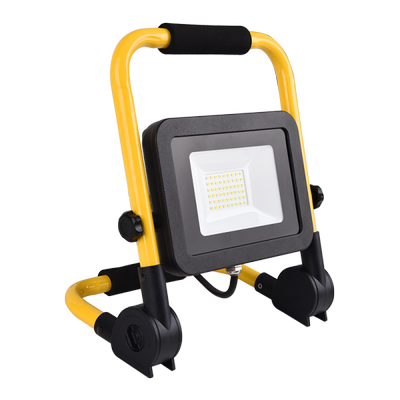 LED floodlights - 8
What comforts and benefits do LED floodlights provide?
1. Long life: the service life of LED floodlights can reach up to 20,000 - 30,000 operating hours. For comparison, ordinary halogen floodlights only work for about 1000 hours. By choosing LED floodlights, you will ensure several years of continuous operation and you can almost forget about changing the lighting units.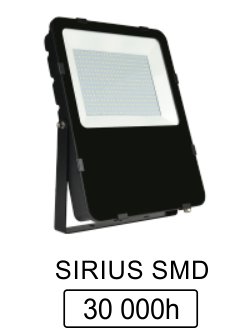 LED floodlights - 9

2. Different light diffusion angles: with individual LED floodlights, the light can be diffused at different angles depending on user needs and preferences. For example, with an 80 degree scatter angle you can highlight a precisely defined architectural feature. At 120 degrees you can cover a larger perimeter.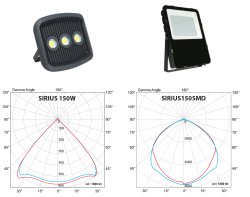 LED floodlights - 10

3. Easy to replace: LED floodlights have a significant advantage in this respect as compared to the metal halogen lamps most commonly used in the past for workplace lighting, which needed special equipment that caused difficulty when they had to be changed. On the other hand, LED floodlights are much easier to change and, as mentioned above, have a very long service life.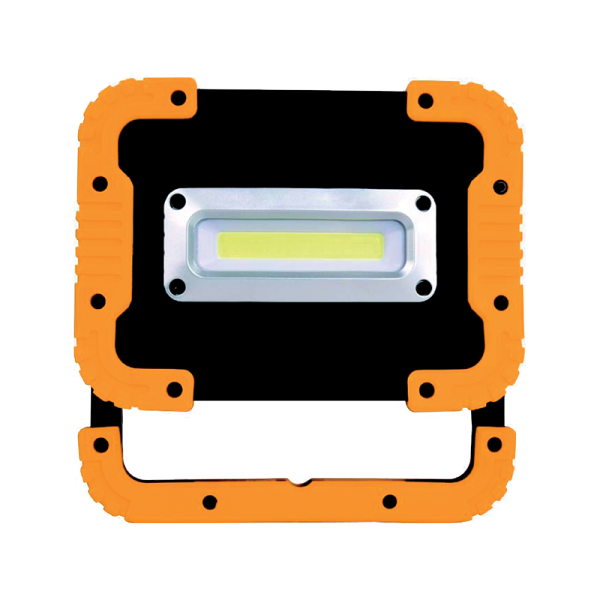 LED floodlights - 11

4. Low consumption: using LED floodlights will cut your electricity bills several times over. They are extremely efficient and provide the lighting you want in your room or space with minimal use of electricity.

5. Materials used: the LED technology used to create LED floodlights is completely safe for humans and the environment. LED floodlights are the right choice for a modern user who wants to use environmentally friendly and non-polluting lights.
LED floodlights - 13
LED floodlights: classification and main types
LED floodlights are available in several main groups depending on their various features and characteristics. Each of these groups meets special user needs and preferences and is suitable for the characteristics of particular premises and spaces. See the types of LED floodlights you can choose from:
1. Traditional LED floodlights: this is the most popular and most widely used type of LED floodlights. They combine the classic shape and holding device of halogen floodlights with all the benefits and advantages of LED lighting. LED floodlights in this group can be fitted directly in place of halogen floodlights without any change in the electrical system. If you have planned to place LED floodlights in open spaces, you should choose products with at least an IP65 degree of protection. LED floodlights with a stand are also available on the market, providing maximum convenience and comfort when placed in industrial estates or work areas.

2. LED Floodlights with sensors: these can be LED floodlights with motion sensors and light sensors. The former only light up when motion is detected at a given distance from the LED floodlight. This saves a significant amount of energy while providing the desired illumination when needed. LED floodlights with a light sensor turn on not as a result of movement, but at a particular degree of twilight. The ELMARK online shop has a number of models with the two types of sensors combined. In other words, the motion detector that turns on the LED is only activated in twilight. This combined mechanism saves energy and extends product life.

3. RGB LED floodlights: this type of LED floodlight is controlled by a remote control and has LEDs in red, green or blue. The diodes can be combined in a variety of ways to obtain lots of bright and interesting colours. This makes RGB LED floodlights an ideal choice for restaurants and bars, public events and celebrations, stages, attractions and architectural landmarks.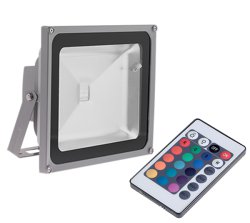 LED floodlights - 16

4. Rechargeable LED floodlights: there are also battery-powered LED floodlights that can operate autonomously for several hours. You can recharge these LED floodlights both from mains electrical sockets and from car lighters. Rechargeable LED floodlights are eminently suitable for camping, picnics, fishing and other outdoor activities.

5. High power LED floodlights: special LED floodlights with an extremely high power rating of 720 W or 960 W are also available on the market. These are used to evenly illuminate large areas such as stadiums and sports grounds.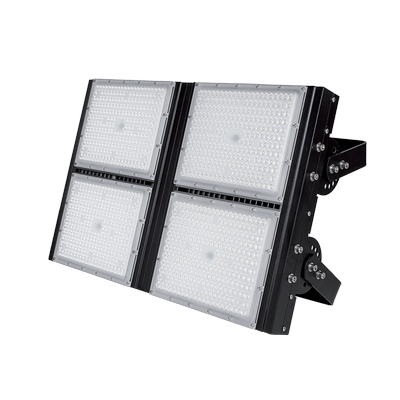 LED floodlights - 17
How to choose the right LED floodlight
There is a growing and increasingly diverse range of LED floodlights on the market, designed to meet the needs and preferences of as wide a range of users as possible. When choosing your LED floodlight, pay attention to a number of features apart from the type of LED projector, such as the power rating, the degree of protection and the colour of the casing. Here are the most important things you need to know about each of these features:
- power rating: you can choose from a number of LED power options. LED floodlights in the ELMARK catalogue start at 5.5 W and reach 960 W. Choose an LED floodlight with a power rating that suits the room or space you want to light up. If the lighting is for a relatively small space, a low power unit will do an excellent job. Super-powerful LED floodlights are mainly used in stadiums, airports and other large public areas.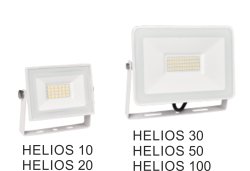 LED floodlights - 18

- Degree of protection: here again, what is important is exactly where you plan to use the LED floodlights and the conditions in the room or space. When placed in wet rooms or outdoors, the LED floodlight must have an IP65 degree of protection, which will allow it to work normally in such places and ensure the desired visibility.

- casing colour: - LED floodlights with a variety of casing colours are available in the ELMARK catalogue. The variants we offer are white, yellow, green, grey, dark grey and black. Choose the casing colour that best fits the feel and atmosphere of the room or space.

Where are LED floodlights most often used?
Which groups of users can benefit from LED floodlights?
What comforts and benefits do LED floodlights provide?
LED floodlights: classification and main types