Garden lighting
Garden lighting
About garden lighting
A beautiful garden is a feature of your home and a place where you can have long evening meals enjoying laughter and fun with your friends and family. Colourful flower beds, hedges, and impressive rock gardens. Imagine how effective they can look, not only during the day but also at night with the right choice of garden lighting. Lanterns, that gently emphasise the paths and alleys in the garden and create a romantic setting. Solar lamps that are more than just a decoration in the grass. All this will turn your garden into a natural extension of your home. Whether you like more delicate and dreamlike lights or more innovative and modern lighting units, you can find the right ones for your garden in the Elmarkstore catalogue. Let's take a look below at our special offers for you in the "Garden Lighting" category.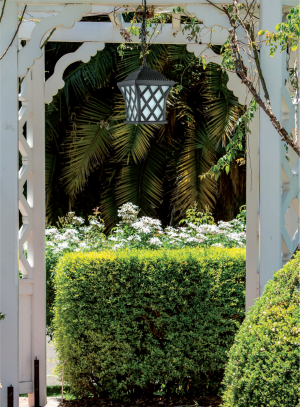 Garden lighting - 1
Types of garden lighting
Garden lighting with an antique feel: garden lighting should look effective during the day as well as at night. Choose it as if you were looking for the most suitable lighting unit for your living room or bedroom. If you like the old street lighting of romantic cities like Rome, Vienna and Venice, you can now re-create it in your garden. Illuminate an alley or path with standing garden lanterns. This is not only practical and very functional but also gives a sophisticated and classic look to your garden. Depending on the colour scheme you want for your garden lighting, we offer you lanterns and wall lamps in black, white, old gold and verdigris. With the various garden lighting ranges, you can practically recreate the atmosphere of anywhere in the world. Each range gives you a variety of lantern types: upward or downward facing wall lanterns, column lanterns, hanging lanterns and more. With different lighting fixtures you can build a harmonious vision encompassing the whole space. You can create a romantic and antique atmosphere with garden lighting from the JOSH, MARK, ALEK, ERIC, NICK and other ranges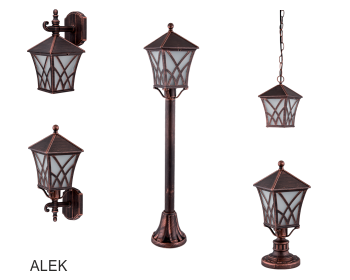 Garden lighting - 2

LED Garden Lighting – if you are fond of more modern design and looking for functionality and efficiency, LED garden lighting is right for you! LED technology has a place everywhere in our everyday life, including for garden lighting. We offer you a wide variety of LED garden lighting that combines all the advantages of the technology itself: low power consumption, good colour rendering and extra long life. Check out our LED garden lighting suggestions: GRF206 LED, GRF302 LED, GRF506 LED and GRF507 LED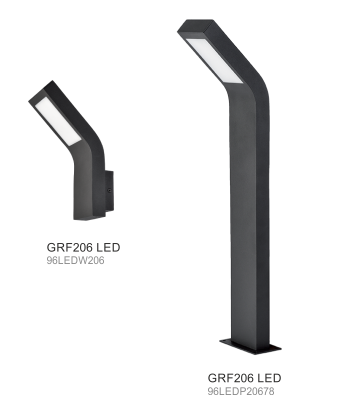 LED spotlights - if you want to create an atmosphere that welcomes and entices you into the garden, we recommend LED spotlights as garden lighting. You can use them to emphasise decorative trees or plants, with the light at an angle creating an interesting light and shade effect. When decorating a garden, the fence and the façade of the house are often ignored. But with LED spotlights, you can successfully highlight the entrance to your home, architectural features of the house or the area in front of the garage. The good illumination achieved with this type of garden lighting is not only attractive, but it also protects your garden from potential intruders. For optimum security and peace of mind, we recommend garden lighting with sensors which turn the lights on whenever there is any movement. Take a look at our VEGA SLIM, HELIOS, LYRA LED spotlight and garden lighting ranges.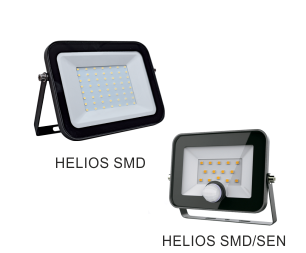 Garden lighting - 2

Built-in garden lighting is not just compact, but extremely effective in achieving a dramatic effect and a sensation of depth. The darker areas and light-and-shade effects of plants and shrubs will complement each other to make your garden a truly special place. If you are looking for delicate and pleasant light to highlight a path or alley, built-in garden lighting is undoubtedly the perfect option. Built-in garden lighting can also emphasise rock gardens, rockeries, rock mounds, ponds or fountains.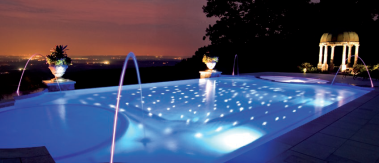 Garden lighting - 3

Facade lights and dome lights for fitting outdoors: if you need to illuminate a path that passes the facade of the building or the fence, external dome lights will do an excellent job. This type of lighting provides sufficient light while saving considerable space. We offer dome lights from our BRLED, GRF98, LED BULKHEAD and other ranges. This range of facade garden lighting will make every building look unique. Façade garden lighting can also be placed on a part of the building or on the entire surface to emphasise columns, arches and vaults. To achieve harmony with the overall appearance of the garden, this type of garden lighting is available in a variety of colours and combinations. Spotlights in the VEGA, LYRA, LINEAR and STREAM ranges can be used.

Garden lighting - 4

Solar Garden Lighting- Rational and correct layout of garden lighting and landscape design features makes every garden beautiful. In this sense, it is important to select quality garden lighting that gives you exactly the light you need. Solar lamps are a great solution if you are looking for effectiveness and a simple but stylish design. In addition, you can place them in any convenient location without the need to provide power cables and electricity. Solar garden lighting is available in a range of types, including lights with a spike to be driven into the ground or lanterns on stands concealed in decorative stonework, animals, figures, etc. In all cases, you will find the design best suited to your tastes and preferences.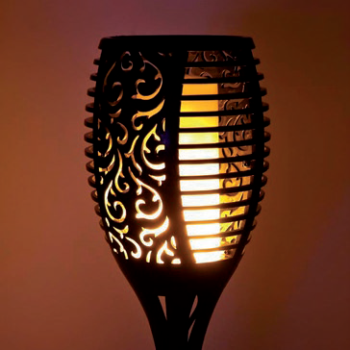 Garden lighting - 5
What do you need to take into account when choosing garden lighting?
Choosing the right garden lighting plays a key role in achieving the effect you want in your garden, whether on rock mounds and rock series, decorative ponds and fountains or hedges and flower beds. Highlighting every detail and feature of the garden requires appropriate garden lighting. For example, subdued light suggests tranquillity and romance and can be used to illuminate alleys or recreation areas. You will need and prefer stronger lighting when working in the garden, which highlights part of the garden or ensures security in dark parts of the space around the house. If you know exactly what you want to achieve in the garden, it will be much easier for you to choose the right units for your garden lighting.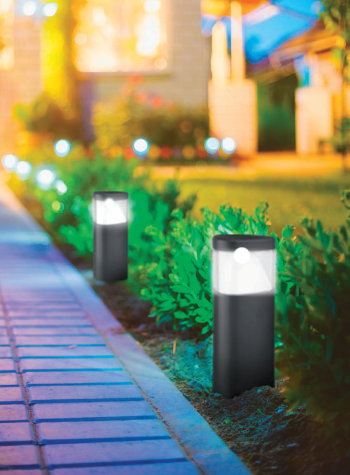 Garden lighting - 6
Garden lighting by Elmarkstore
Choose Elmarkstore Garden Lighting and provide yourself and your family with beauty, functionality and quality. From our diverse and varied product range you will be sure to find the right and appropriate lighting for the characteristics of your garden. All our Garden Lighting products have a different degree of protection, so that they can be used outdoors. Transform your garden with lighting units from Elmarkstore!
What do you need to take into account when choosing garden lighting?