LED Strips
LED Strips
LED strip
An LED strip is a discreet but effective way to highlight a particular feature in the interior of your home or to improve illumination in places where other types of lighting have no effect. There are three main reasons why LED strips are so sought-after and preferred by modern users. They are much more economical and energy efficient than traditional light bulbs; they can be fitted in more confined spaces and they successfully create a unique and impressive atmosphere in the interior of every home. LED strips are suitable for individual rooms in your home (living room, kitchen, bathroom or bedroom) and for your car, gazebo, garden or anywhere else that comes to mind. Below you can find out the main advantages and applications of LED strips and see a few interesting projects where they could have a central role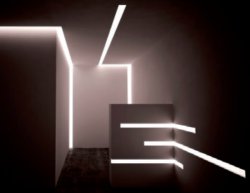 LED strip - 1
Why choose an LED strip?
An LED strip is the right solution if you want to change the appearance of a room easily and quickly without complicated and time-consuming redecoration. It is also the best option to highlight a particular interior feature. LED strips have many applications. They can be fitted under furniture, embedded in suspended ceilings or used as a decoration around mirrors, frames, steps, etc. The main advantages of LED strips include extremely easy fitting, an affordable price and a wide range of available colours.
1. LED strip colour range: in addition to the traditional colours offered, the ElmarkStore product range also offers LED strips in different shades of white. Depending on the warmth of the colour, these LED strips can emit two shades of white: cold white, like the light from fluorescent lamps, and warm white, close to natural sunlight. In the ElmarkStore catalogue there is also an LED strip that can change colour between red, green and blue, operated from a control device similar to a remote control that makes the colours of the LED strip flow into each other.

LED strip - 2

2. Waterproof LED strip: in terms of water resistance, there are 3 main types of LED strip. LED strips with an IP20 protection level are used in dry rooms such as bedrooms, living rooms, larders, etc. The IP44 LED strip protection level provides partial protection from dust and water. This type of LED strip is most commonly used in wet rooms such as bathrooms and laundries. LED strips of the IP65 type are partially protected from moisture and, unlike IP44, are protected by a silicone coating, making them fit for outdoor use. But remember that the level of moisture protection of the IP65 LED strip does not mean that it can be used under water.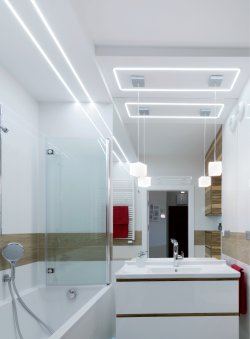 LED strip - 3

3. Different levels of illumination with an LED strip: In the ElmarkStore product range you can find a variety of LED strips, each with a different number of LEDs per linear metre. Their number determines the amount of light that the LED strip emits. The more LEDs there are, the more intense the light will be. The main variants are LED strips with 30, 60 and 120 LEDs per linear metre. The 30-LED strip is best suited for illuminating kitchen worktops, suspended ceilings and similar areas. The 60-LED strip is often used under cupboards and bar tops and for highlighting steps and frames. LED strips with 120 diodes are ideal for high ceilings and for outdoor lighting, pathways, advertisements and other places where more light is needed. If you need more light, we recommend a two-line LED strip with 240 diodes per linear metre, or 120 per line. Achieving the desired illumination depends not only on the number of diodes but also on their size. The ElmarkStore "LED Strips" category has 2 basic diode sizes - 35/28 and 50/50. A 35/28 LED strip is ideal for highlighting interior features or as decorative lighting, for example under the cupboards over the kitchen worktop. For more light, the 50/50 diode LED strip is preferable. This one is suitable for use in places where you need enough light. Both types of LEDs mentioned above are widely used, not only in the home, but also in shops, restaurants, outdoor advertising, etc.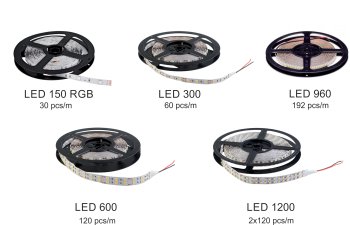 LED strip - 4

4. Energy efficiency of LED strips: practice has proved that LED strips are much more economical than traditional light bulbs. Their service life is almost 7 times longer. The power consumed by LED strips is 80% less than for incandescent bulbs. An LED strip can provide 80 lumens (lm) using only 1 Watt (W). For comparison, with incandescent bulbs you will only get a maximum illumination of 15 lm for 1 W. These data confirm the energy efficiency advantages of LED strips.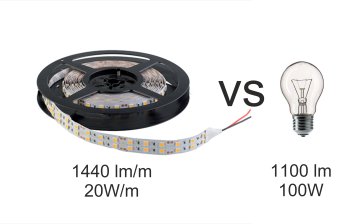 LED strip - 5
LED strip applications
You can use LED strips in thousands of places. The only requirement is access to a power supply. But let's see its most popular applications.
- indoor home use - LED strips can be used in different places in your home, such as the kitchen, bedroom, bathroom, dressing room, cupboards, under the sofa and many more. Let's take the kitchen as an example. This is the room where we spend a lot of our time, cooking delicious food for our family. Kitchen lighting can often be difficult and expensive. A 35/28 LED strip, however, will provide effective lighting under the cupboards over the kitchen worktop, in the cupboards themselves and even around the refrigerator. This provides extra lighting and a more refined and modern design. A 35/28 diode LED strip can also be used as decorative lighting around mirrors and frames. It can be fitted both on the surface itself and behind it. Placing an LED strip behind a mirror or frame creates a sense of depth and perfectly complements the overall appearance of the room.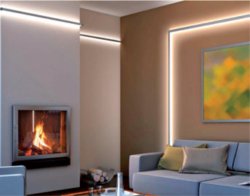 LED strip - 6

- outdoors: if you want to change the outdoor appearance of your home quickly, easily and effectively, an LED strip can be the right choice for you. This type of lighting is ideal for outside walls of houses to emphasise architectural features. Fitting the strip takes a little more time, but the results are definitely worth it. The LED strip eliminates the need to keep replacing light bulbs. The service life of this type of lighting is over 30,000 hours. LED strips can also be used to enhance the atmosphere in the garden by fitting them in different areas. The layout and decoration of your garden adds special charm to your home and make a good impression. LED strips can also highlight flower beds, paths and other garden features. This will make your garden look unique and impressive both during the day and at night.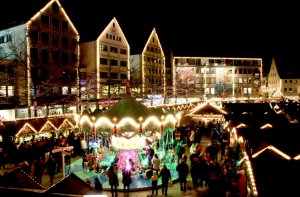 LED strip - 7

- restaurant and bar lighting: apart from sound, light is one of the main factors that create the right atmosphere in bars and restaurants. Choosing the right lighting and creating the desired sensation can strongly enhance the popularity of a club. An LED strip can put your clients a good mood and make an excellent impression. LED strips are the most suitable lighting for the light and colour you want. The wide variety of coloured LED strips can breathe life into every part of a restaurant and to its overall appearance and feel, to make it suitable for a party or special event. An LED strip is an excellent choice if you want to achieve a similar effect in your home. Making a relaxation area or bar area in your living room or lounge will make you more comfortable and encourage you to spend more time with your loved ones, but it will also make a great impression on your guests. Once you know how to create a club effect, start transforming your home environment with LED strips.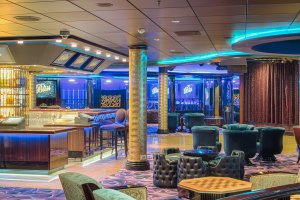 LED strip - 8

- advertisements: illuminated signs and advertisements are certainly the ones that attract our attention. Every business needs the best possible advertising. This has never been as easy as it is now, thanks to LED strips. They fix your message in the mind of the public and constantly transmit it to your customers and guests, or just to occasional passers-by. LED strips are extremely effective when highlighting or recreating different inscriptions and signs. Over the years, LED strips have become the most popular lighting for advertising and are frequently placed in illuminated panels, inscriptions and figures. With their long service life, LED strips continue working for a long time and make an impression on every passer-by. Their moisture resistance and protection from dust and solid particles make LED strips the perfect solution for every advertisement. With the different colours of our LED strips you can choose the best option for your needs.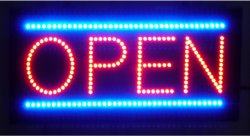 LED strip - 9

- other applications: we have all seen the light effects under the cars in films like "Fast and Furious," but have you ever thought how they create these effects? The answer is easy: they use an LED strip, which produces a substantial amount of light without consuming much of the battery power. An LED strip can be found both inside and outside the passenger compartment. For example, you can place an LED strip by your passengers' feet or on the driving seat, customising your vehicle in your own style.
What do you need to fit an LED strip?
One of the most important things we advise you to ensure is the right power supply for the LED strip. The 220 Volt AC power supply voltage from the grid is transformed at the input to the optimum voltage for the LED strip to work, i.e. mainly 12 V DC. After you buy your power supply unit and LED strip, you can let your imagination take hold and change every indoor or outdoor detail. But remember that when fitting the LED strip, the surface must be clean and dry to ensure that the strip sticks firmly to the surface.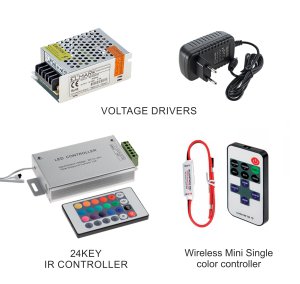 LED strip - 10
LED strip from ElmarkStore shops
The features LED strips and their thousands of applications give you countless opportunities to change the interior or exterior of your home, car, garden, shop or restaurant in just a few hours. Find the best offers for your project from the "LED strip" category at ElmarkStore stores. We offer you a wide range of LED strips that can satisfy every taste. So choose the LED strip with exactly the type of lighting, power consumption and colour that you want. If you already know what project you would like to realise and you are looking for the best offers in the "LED strip" category, ElmarkStore is the right place for you.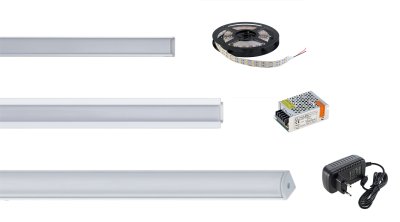 LED strip - 11
LED strip Why choose an LED strip?
What do you need to fit an LED strip?